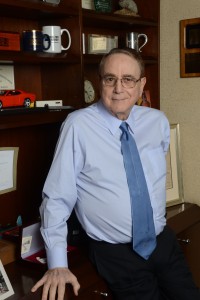 Founder
Chairman and Chief Executive Officer
Marston Strategic Communications
(917) 472 0610
[email protected]
Bob Marston is the founder and chief executive of Marston Strategic Communications, a firm he founded in 2014 to develop and implement high-level communications programs for clients. He began his career in public relations several decades ago, and in 1970 launched his first agency, Robert Marston And Associates, which had a highly successful run for 44 years.
During his long career, Marston has developed programs and campaigns for many of the country's largest corporations — AT&T, General Motors, Merck, The Home Depot, Chrysler, Johnson & Johnson, GlaxoSmithKline, Schering-Plough, 3M, Levi Strauss, Procter & Gamble, Anheuser-Busch, Pepsi-Cola, Avon, Quaker Oats, H.J. Heinz, Campbell Soup, Control Data, MasterCard International, Diners Club, Albertsons, SUPERVALU, Honeywell, National Car Rental, The Dial Corp, Wang Laboratories, J.C. Penney, American Airlines, DuPont, Nalco, Corning Glass, Fisher-Price, Pillsbury, Brown-Forman Corporation, Ernst & Young, Dean Witter Reynolds, Donaldson, Lufkin & Jenrette, Credit Suisse First Boston, Alex. Brown & Sons, John Hancock Financial Services, INA, Coopers & Lybrand, KPMG Peat Marwick, Spencer Stuart, Citigroup, Bristol-Myers, among many others.
He is involved directly in the creative, as well as the managerial, areas of the new agency, specializing in high-level counseling of C-suite executives of some of the world's most successful companies. He is also known for his expertise in crisis management.
Marston has also written extensively for numerous business journals during his career.